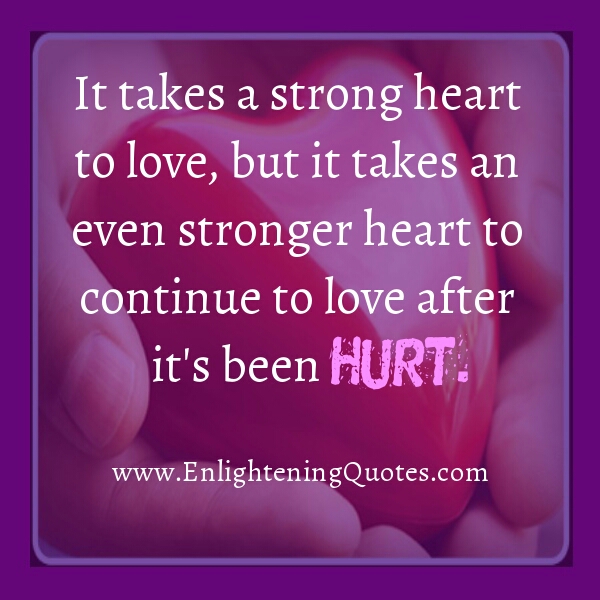 If we don't forgive, we don't have love.
It takes an ultimate heart to forgive, only then can one truly love another. ~ Michael Henry 
That is the true test of unconditional loving.
It takes forgiveness, faith, resolve, and contentment to move past hurt to experience the full essence of love, joy, and, peace. ~  Myrna Johnson 
Be not angry that you cannot make others as you wish them to be, since you cannot make yourself as you wish to be. ~ Thomas Kempis
Thing being deeply loved by someone gives you strength, while loving someone deeply gives you courage. ~ Lao Tzu
When someone you love continues to cause hurt over and over there comes a point where you have to be strong enough to walk away because you should always make sure you are taken care of. ~ Kellie Nichols 
Just go on loving. Remember, love is a gift from God and it should be shared unconditionally and that goes to all kind of love. Life is so beautiful if it is spent with much love because love gives it more spirit. ~ Maricar Zepeda 
Love is forgiving. Love is not revengeful.
One who still believes there is hope for love regardless of past broken loves, to me is not just a strong heart but an inward determination and willingness to still hold onto wanting to love and to be loved and to be keep apart of your heart open to it. ~ Margaret Saba 
I have continued to love many people in my life no matter how much they have hurt me. It is wonderful when they are back. It is so much easier to love than to hate. I know people who hate and never get over it, such a waste of time. Just get together and say I'm sorry. Hugs are great. ~ Lynne Jennings
Got Something to Say! Comment below :-
comments