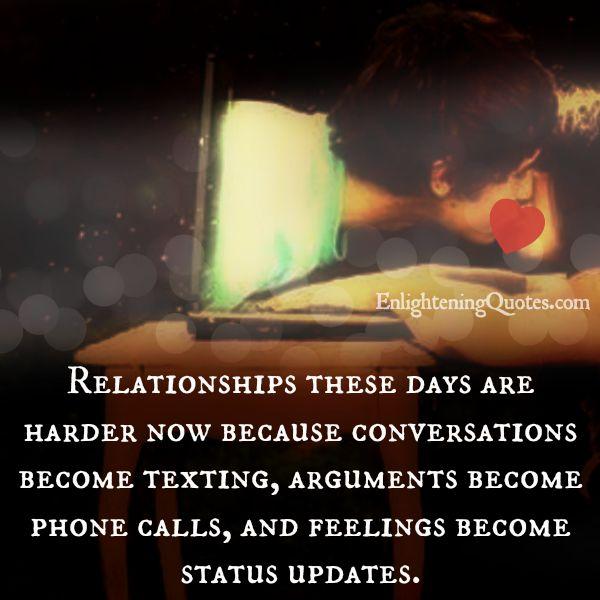 We need to get back to basics. Meaningful conversations, face to face. That why there are so many misunderstandings. Communications are 93% non verbal and 7% verbal. 
Relationships have become disposable. It is sad. People say it takes a strong person to walk away. Truth is, it takes a stronger person to stay, to forgive and to rebuild. ~ Amy Walker 
No one wants to try, nobody has time to put in some effort…Nobody is perfect and nowadays if someone doesn't like something, they throw it out! ~ Cyndi Maria
All relationships have problems. It just depends on whether or not you two are strong enough to get through them together.
Social Media has changed the way we live and interact, it can also have changes on our mentality.
First, when we communicate through social media, we tend to trust the people on the other end of the communication, so our messages tend to be more open. Second, our social connections are not strengthened as much through social media as they are face-to-face, so we don't tend to deepen our relationships—they tend to exist in the status quo. Last, we tend to follow and interact with people who agree with our points of view, so we aren't getting the same diversity of viewpoints as we've gotten in the past.
"Certainly, with every new communication technology comes changes in the style and type of interpersonal communication,"
SADLY according to Cornell University's Steven Strogatz, social media sites can make it more difficult for us to distinguish between the meaningful relationships we foster in the real world, and the numerous casual relationships formed through social media. By focusing so much of our time and psychic energy on these less meaningful relationships, our most important connections, relationship in a real world surely weaken.
Social media and technology combined are slowly becoming the number one cause of problems and arguments in relationships. It's no coincidence that lot of relationship ends with "breakup" and "divorce".
~ Eliyahu Ezra 
Face to face conversation is hard to find in a relationship these days. So many distractions in the relationship! Privacy is hard to find in a relationship. Really being there for someone requires no distractions! Listening and trying to understand were the other person is coming from. Without going hold on a minute my phone is ringing and I have to get back to that text, etc. Just put the technology down and stop the addiction with it and enjoy your life being free from added drama. I pray for me and those in America going threw such situations! 
There are ups and downs. More traveled roads and least traveled. May there be more ups and people who stop following the most traveled and go their own ways. Don't follow the crowd. Sometimes the crowd leads you the wrong way. Stand up for what is right and it doesn't matter if you stand alone. I would rather stand alone than follow a crowd who just follows a crowd in the wrong direction. I know what is right and will stand by the old fashioned tradition everyone wants to change with all this technology. Who is by your side in person is what really matters and taking life slowly with out rushing is the best road to travel in a new, yet different traveled old road/ From a young, but old soul myself. ~ Crystal Wade 
Got Something to Say! Comment below :-
comments