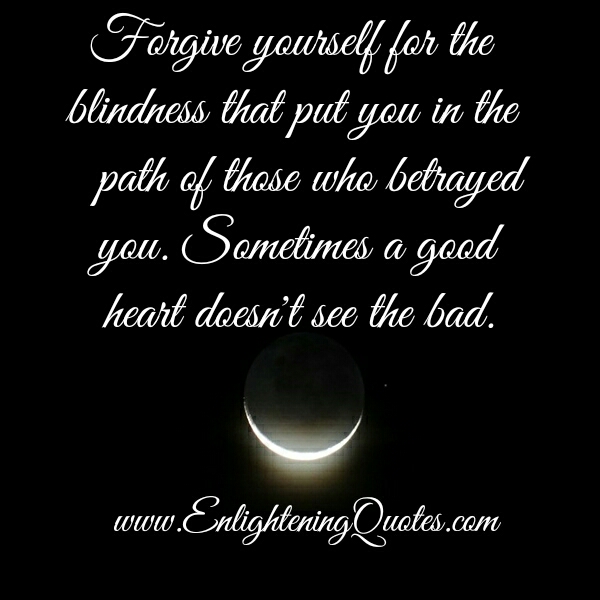 We have to forgive. It's a gift we give ourselves.
Sometimes we can't see because we trust to easily.
Our heart isn't blind it's just too pure to expect the evil around us. ~ Sahar Elmansy
You are so blinded by love when you are in a relationship, but sometimes when you're on the outside looking in it's different. ~ Amie Kaufman 
Sometimes I don't see the bad in people. It's hard to understand why did I think they were good human's but there is always one. I do forgive but I never forget. ~ Laura Berman 
Sometimes we are blind because we loved and trusted them too much. Eventually the blinds are lifted and leave the past where it belongs. ~ Margarita Rivera 
You have to keep others from making you shut off the good in you because there is always someone who recognizes and appreciates. It just may be someone you less suspect. ~ Gwen Logan 
Do not let the shadows of your past darken the doorstep of your present and future. Let go, forgive and move forward. Just because the past didn't turn out like you had hoped, doesn't mean your future cant be better than you had envisioned.
Forgiveness is very important. Don't carry with anger because it's going to hurt you & not the other person. Remember life is just a one time experience. Put everything in God's hand. ~ Elisay Aranda 
Got Something to Say! Comment below :-
comments