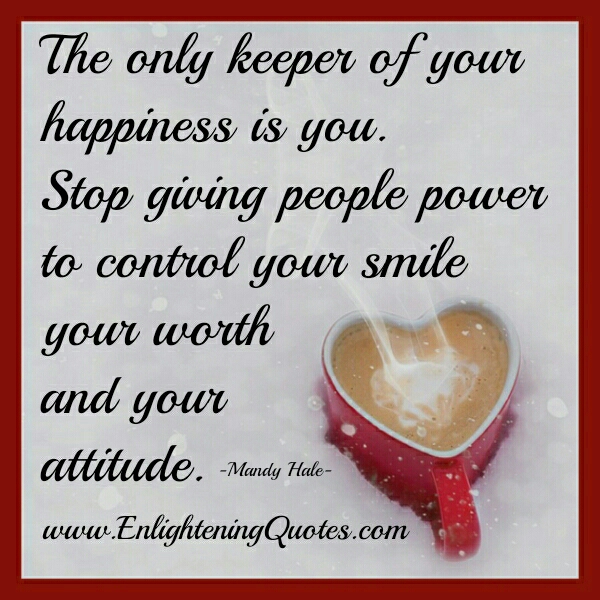 Good lesson to learn. People that make you feel bad shouldn't have a place in your life anyway. ~ Michelle White 
Don't let people live "rent free" in your head.
I am determined to be cheerful and happy in whatever situation I may find myself. For I have learned that the greater part of our misery or unhappiness is determined not by our circumstance but by our disposition. ~ Martha Washington
We should be thankful for everyday we have. Being happy is our choice. If we look at what we have instead of what we don't, we will be much happier. ~ David Collins 
You are the only best friend of you. Love yourself and be happy. Shun the people who make you unhappy and discourage you. They are not worth your company. ~ Surinder Sandhu 
Attitude is a foundation and support in everything you do. It's the key element in the process of controlling your destiny. For true happiness, look within yourself. It's difficult to be happy if you rely on outside resources. ~ Cristina Gella 
Everybody in the world is seeking happiness and there is one sure way to find it. That is by controlling your thoughts. Happiness doesn't depend on outward conditions. It depends on inner conditions.
We all have the choice, what we allow into our hearts. Someone's else's unhappiness does not need to be ours. Often those that lack joy will rob another. The key is surrounding yourself with beautiful people that love the all of you. ~ Stuart Karen
Got Something to Say! Comment below :-
comments