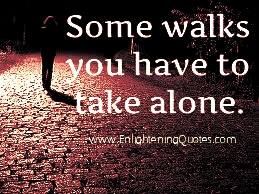 Only way to get ahead, walk it alone on your road.
At the end of it you will meet your true self.
There must be some journeys in your life that you will have to go alone. Keep up the faith, say no to impossible.
Sometimes those roads are meant to help us grow and sometimes just to help us learn something.
I had too many "walks" alone and they were very difficult. Some made me angry, some made me lonely, some made me sad. Some walks were very frightening as I didn't think I'd make them all by myself, but I did it. Some walks lasted for many years. Even though I am married, I still have walks that I must do alone. Looking back those were the best years of my life because those walks made strong and I learned so much about myself and they made a huge impact on myself, confidence and pride.
I walk this empty street on the boulevard of broken dreams, when the city sleeps and I'm the only one and I walk alone, I walk alone, I walk alone. ~ Green day
In these walks our faith in God get stronger and some had found God. Perhaps that is what they are meant for. Looking back I know God was with me all along and those challenges did indeed get me closer to Him.
Got Something to Say! Comment below :-
comments